ACCESSIBLE BEACH; Yes sounds so easy doesn't it !

There are NO accessible beaches in Florida, YES, Florida.

WE Can Make it HAPPEN -a Dream to see Accessible Beaches all over this country. But we need your help to make this dream come true. It takes money to make the dream of Accessible Beaches a reality.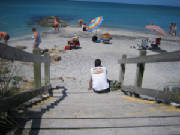 YOU CAN MAKE IT HAPPEN, yes you can help make the dream happen. Just click on the donate button.

You can use your credit card.
Any and all donations will HELP us make Accessible Beaches a Reality.

If you wish to give a large donation please email me at

Beaches@accesswave.com

Use Goodsearch.com,
for ALL you Internet search needs.
Help out Beaches For All,
when you use Goodsearch.com