It was a joy to stay at The Crowne Plaza Hotel San Francisco International Airport, which is only 17 miles from downtown San Francisco and minutes to the airport. This hotel over looks the water and has excellent walking areas around the hotel, for those early morning jogs, or scoots or those peaceful late evening strolls.

The first thing I noticed was how friendly and welcoming the staff was. Nothing was a to much trouble for them, they accepted my disabilities and made me feel extremely comfortable.

This hotel has just had a 23 million dollar renovation so everything is very up to date. The room was a good size, and had the added feature of high-speed Internet hook, up which I look for now in all hotels. Hopefully it will become free just like cable TV has become free. Oh yes remember to bring your Ethernet cordI am always having to buy one or borrow one. Usually just a 6 foot one will do.

The Crowne Plaza features 309 rooms, including 11 suites. Each room offers all of the amenities you expect, as well as high-speed Internet access, and well-lit work desk with an ergonomic chair. There are a few unique features in the room that will surprise and please you. Available 24/7: business center, sundry shop, and fitness center.

The West Bay Cafe and Lounge offers a relaxed atmosphere, seating up to 140 people. Warm wood tones, fireplace and elegant yet comfortable decor provide a pleasurable experience for all. Try the West Bay Blue Crab Cakes they are delicious..

You can get city tours from the hotel that will pick you up right at the door..To find an accessible tour that is a problem. You cannot do this on the spur of the moment but need a lead-time of at least 24 hours and 48 hours would be better. I did not find any specific accessible tour buses but all tour companies will accommodate. (be prepared for some inconveniences) but a tour is well worth the hassle. I gather Alcatraz is Not accessible. (Which suits me fine- too many negative vibes there anyways).



Crowne Plaza Hotel

SAN FRANCISCO INTERNTNL ARPT,

1177 Airport Blvd.
BURLINGAME, CA 94010
UNITED STATES
Toll-Free: 1 800 411 7275
Tel: 1-650-3429200
Fax: 1-650-3421655
Email: info@winshipway.com
Check-In Time: 3:00 PM

Jane Danielson is has been disabled for 16 years. She uses cane, wheelchair and her scooter that she calls her Freedom Machine She has been widely published as a Travel Writer for the Disabled,

You can reach Jane at JaneD@disabled-traveler.com. Please feel free to visit Janes web site at http:// www.disabled-traveler.com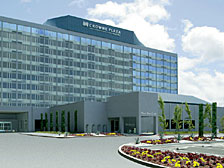 Now back to the hotel the Crown Plaza is wheel chair friendly and so is the staff,, High speed accessible and dog welcoming.. Below are some of the amenities:

* Indoor Pool
* Pets Allowed
* High-speed Internet Access
* Whirlpool
* Airport Shuttle
* Cocktail Lounge
* 1 Restaurant
* Tour Desk: Concierge available.
Also the hotel staff speaks: Catalan, Chinese, Dutch, English, French, German, Greek, Italian, Japanese, and Spanish- wow thats a lot of languages!
< Personal Services
* 24-Hour Front Desk
* Beauty Salon
* Cash Machine
* Concierge Services
* Dry Cleaning/Laundry
* Gift Shop
* Ice Machine
* Newsstand
* Porter/Bellman
* Safety Deposit Box
* Turndown Service
* Wake Up Calls

Business Services
* Copying Service
* E-mail & Internet Service
* Ergonomic Chair
* Executive Floors
* Executive Rooms
* Facsimile Service
* Full Business Center
* PC Service
* Printer Service

Parking Information
* Daily Parking Fee: $13.00 (USD)
* Secure, gated and well lit. 300+ parking spaces, including 9 ADA spaces.
Downtown Information
* SAN FRANCISCO (17 MI)
Local Information
* Golf within 1 MI
* Shopping within 1 MI
* Tennis within 1 MI

Attractions
* Candlestick Park - Home of the San Francisco 49ers (5 MI)
* PacBell Park - Home of the SF Giants Baseball Team (13 MI)
* Golden Gate Bridge (20 MI)
* Chinatown in San Francisco (17 MI)
* Fisherman's Wharf and Pier 39 (17 MI)
* Cow Palace So. San Fran - Concerts/Consumer Shows (5 MI
* Half Moon Bay on the Pacific Ocean (19 MI)

* Stanford University & Medical Center (16 MI)
* Mills Peninsula Hospital (2 MI)
* San Francisco Theatre District (15 MI)

So if you want a good place to stay and get value for your dollar spent- consider Crowne Plaza Hotel, tell them Jane- the disabled traveler writer sent you. You wont be disappointed.