Have you ever wondered what it would be like to go to PGA Golf Tournament but think your wheelchair or scooter is holding you back- well NOT.
Come with me to the Players Championship in Florida were you could see Vijay, Tiger, Davis Love, Ernie, Big John, or Sergio.

The Players Tournament held at the TPC Sawgrass Stadium course is accessible, yes it is. Now, being a golf course some areas that are a little uneven but you will forget that when you are sitting at the 17th tee, in the handicapped seating, and the players just walk right in front of you to tee off. What a thrill to see, as they will make their shot onto the 17th island green. You have the "best seats in the house"!

When I visited the TPC Sawgrass golf course, it was just pristine, as I guess one would expect with the Players Championship going on. However, I did have the opportunity of watching those ground keeper's work and did they work- wow- and what a great bunch of guys and gals, they take so much pride in their work.

The Tournament Players Club, Sawgrass is one of courses of the TPC network, which includes 23 facilities (some still in development) across the U.S. and has become a wildly successful venture for the PGA TOUR.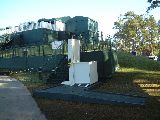 Now back to accessibility, first if you have traveling by electric scooter o electric wheelchair, you will be directed to a special parking area on the backside of the course, which is closer to the entrance gate.

If you are in a wheelchair or have limited mobility (cane or crutches) there is a drop off at the gate where you will be picked up by an extended Golf cart which seats about 8 and room to fold up the wheelchairs. The Golf Cart for the disabled whisks you into the course and drops you off where you want.

You can also easily use your electric scooter or wheelchair from the gate, as they have artificial turf on the road into the course. Getting around the course is a real dream as all major paths are paved.

Another wonderful place to view the action is from the 18th hole. A lift elevator takes you up to the viewing area right in front of the hole " best seats in the house"; they have also provided seats for your companions, smart!

The PGA has made the whole experience wheelchair friendly, things like handicapped portable bathrooms. These portable bathrooms have great ramps, huge spaces inside, and wait to hear this, even music playing when you open the door!
Throughout the course, you will find other handicapped washrooms.

Food Kiosks and merchandize tents are all accessible. Everyone needs some money to buy a souvenir or a drink so scattered throughout the course are portable ATM machines that are again accessible in height. - Great idea!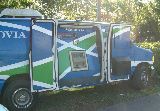 Just a Note: The purpose of the PGA TOUR, a nonprofit organization, is to provide the highest level of competition, exemplify fair play, inspire achievement and make a positive contribution to society. PGA TOUR tournaments raise significant dollars for local and national charities. The first charitable contribution was a $10,000 donation made by the Palm Beach Invitational in 1938. Since that time, close to $700 million has been given to charitable organizations through the PGA TOUR

The Tournament, of course provides emergency medical facilities on site as well as emergency vehicles. If you need any assistance, directions, or just a chat there are 100's and 100's of wonderful volunteers.
MY experience at the Players Championship at Sawgrass was amazing from the facilities to the Golf, from the volunteers to the players. I was thrilled to see that the Players Championship makes us who are disabled, very welcome, very at home and very much part of the action

They do it with all the right ramps etc but they do it even more so with their hospitality, with their genuine concern and respect for the needs of the disabled.

So, do consider treating yourself and go to the Players Championship at Sawgrass golf course, in Ponte Verde Beach Florida.

I do want to thank Denise and Allison who made my experience so most enjoyable.

You always thought that the closest to these players would be through the TV; well the PGA Players Championship has made it so simple for you to enjoy golf where it should be enjoyed, on the Golf Course.

So, get off the couch, get out the door, and partake in life. You too can enjoy a Golf Tournament, I did.
Oil up the scooter, get the wheelchair ready, come to The Players Championship at TPC Sawgrass, and "get the best seats in the house"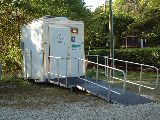 Information:

The TPC at Sawgrass' famed Stadium Course is host to THE PLAYERS Championship. One of the PGA Tour's most coveted titles, THE PLAYERS boasts the strongest field of any TOUR event. In 2004, Adam Scott overcame the talented field at the TPC at Sawgrass, and the 23-year-old Australian became the youngest winner in the history of THE PLAYERS Championship.

Located in Ponte Vedra, Florida, the TPC at Sawgrass is 25 miles east of Jacksonville and 133 miles north of Orlando