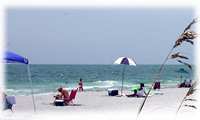 All these beaches are Not Accessible.
They are in Florida, a state that is known for their beaches.

Help me make these Beaches accessible for the Disabled. Help me change just a little part of the world.

We CAN DO IT, one person at a time.
Donate to BEACHES FOR ALL.



Whether $1.00 or $10.00 or $100.00

it will ALL HELP.



Just the cost of a POP. or a Pizza or a pair of JEANS



You can make a difference.



This web page will let you know when we get the Beaches ACCESSIBLE.



YOU can come see what YOU have BUILT.