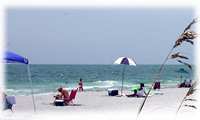 All these beaches are Not Accessible.

They are in Florida, a state that is known for their beaches.


Help make these Beaches accessible for the Disabled. Help change just a little part of the world.

We MAKE IT HAPPEN , one person at a time.
You brighten the world
There is light within you that
Radiates out.
A gentle, unfailing light that comforts.
A soft but steady light that takes the edge
Off a hard day, chases away shadows and
makes people feel less alone.
So do not ever ever question whether you make
a difference.
You do by just being you.